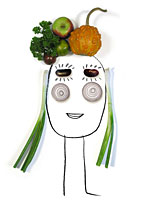 So have you been wondering why you haven't been functioning at 100%? Take a look at your plate and the answer might be right in front of you.  Here are some guide lines to help you know what to eat when you are not feeling your best.
Lacking Energy? Eat this: Feeling sluggish could be due to a low level of iron. To replenish your iron levels, eat red meats, poultry and fish. None meat sources include soybeans, lentils, spinach, and fortified cereals.
Need to Feel Calm? Eat this: It's important to remember to stay away refined carbs, which are foods with high amounts of white flour, becuase they can cause spikes and drops in blood sugar levels. So to keep your blood sugar levels at a level state, you need to consume foods with whole graines, fruits, vegetables, and lentiles.
Forgetting Things Lately? Eat this: Forgettfulness and a lack of concentration could be due to a lack of Omega-3 Fatty Acids and Vitamin B12. To replenish your levels of Omega-3 try and eat fish like tuna, salmon, mackerel, trout, and herring. To replenish your levels of B12 try eating fortified breakfast cerels, yogurt, cheese, whole eggs, and cooked clams.
For more information and tips about a healthy diet and how it works for you and your mood, contact Registered Dietitian, Heather Suders, at (540)347-2918 at Blue Ridge Orthopaedic & Spine Center.
Lower back pain can be caused by lots of ailments. How can you tell when it stems from degenerative disc disease.
Nothing beats an MRI for detecting disc degeneration. But there are other signs that point to degenerative disc disease. This Spine-Health article lists four common symptoms:
The low back pain is generally made worse with sitting, since in the seated position the lumbosacral discs are loaded three times more than standing.
Certain types of activity will usually worsen the low back pain, especially bending, lifting and twisting.
Walking, and even running, may actually feel better than prolonged sitting or standing.
Patients will generally feel better if they can change positions frequently, and lying down is usually the best position since this relieves stress on the disc space.
Often, these symptoms cause severe episodes of pain lasting anywhere from a few days to a few months. These episodes are in addition to the chronic pain the patient feels constantly.
Are you suffering from lower back pain that you fear may be chronic? Our spine center and pain management specialists will listen to you, analyze your symptoms and situation, and recommend the best course of action for you. Contact us today to get started on the path to less pain.
Categories: spine center, pain management, physical therapy and rehab.
Blue Ridge Orthopaedic and Spine Center participated in the Fauquier FISH Backpack Distribution to help collect school supplies for Fauquier County kids this year. Blue Ridge employees provided 10 kids, 5 boys and 5 girls, with supplies for the upcoming school year. Backpacks, binders, tissues, hand sanitizer, pencils, paper, and scissors were among items that were donated. 600 children benefited from the Fauquier FISH Backpack Distribution's efforts and are now ready to start the school year out right!
TAME your PAIN
Is persistent pain interfering with your everyday life?  We can help.  Our team of caregivers has received advanced training in pain management.  We work together across multiple healthcare disciplines to help YOU manage your pain.  We will assess your condition, evaluate past treatments and discuss new options to build a plan that is right for you.  Our focus is YOU.  We will help you get YOUR life back!! 
Please come and meet Daniel Heller, MD
Thursday September 20, 2012
6:30 PM (6:00 Appetizers)
Best Western
791 Madison Road, Culpeper, VA 22701
Call Jill Smith to reserve your seat today!
540-347-9298 (ext. 270)
jsmith@broava.com